Frédéric Léotar
CEO
Co-founder and CEO of the Centre, Frédéric manages and develops the organisation in support of its artistic and social mission. He undertakes the organization of various projects to promote the recognition of musicians from different traditions and greater linkage with academic institutions and the public.
Recognized specialist in music of oral tradition in Siberia and in Central Asia (PhD), Dr. Léotar is a teacher, lecturer and consultant (UNESCO). His research projects have been repeatedly supported by the Social Sciences and Humanities Research Council (SSHRC). He is a regular member of the Observatory of Interdisciplinary Research and Creation in Music (OICRM).
Centre des musiciens du monde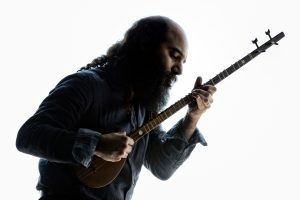 Kiya Tabassian
Artistic Director
As Constantinople's artistic director, Kiya Tabassian supervised the creation of about 40 new works with accomplished musicians from different traditions in more than 130 cities around the world. As the Centre's artistic director, Kiya Tabassian will develop the artistic vision, manage the musicians' residencies and extend the Centre's artistic activities.
Centre des musiciens du monde
Julie Messier
Administrative Director
Titulaire d'un baccalauréat en gestion internationale et cinéma (HEC Montréal), Julie est responsable de la gestion administrative et comptable du Centre des musiciens du monde. Forte d'un parcours professionnel varié, elle a habité Montréal, Helsinki et Amsterdam, en plus de parcourir de nombreux pays d'Europe et d'Asie. Elle a d'ailleurs contribué à une mission humanitaire en Haïti. Spécialiste en gestion d'organismes communautaires et culturels, Julie est une passionnée qui veut assurer au Centre des musiciens la mise en place de fondations administratives solides afin de réaliser le plein potentiel de sa mission.
Centre des musiciens du monde
Sylvianne Lagueux-Tremblay
Reception and office support agent
Sylvianne, holder of a Bachelor's Degree in Anthropology from the University of Montreal, is interested in the oral traditions and the cultural productions of local communities. She has participated in the development of various community-based projects and citizen's initiatives in New York, Guatemala and Montreal in the past years. She is committed to maintaining good relations between the various members of the community. At the Centre des musiciens, Sylvianne's mandate is to welcome the public and maintain administrative and logistical operations
Centre des musiciens du monde